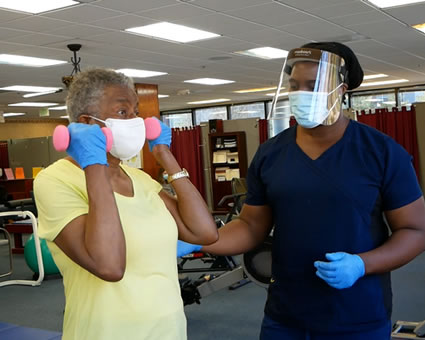 Physical Therapy at
Dabbs Rehab Center of Maryland
Physical therapy provides a hands-on manual therapy based approach with specific exercises to suit your problem.  We utilize joint mobilizations & soft tissue techniques to address joint biomechanical faults, muscle & myofacial dysfunction, & neural tension.  In addition, we'll assess your everyday microtraumas such as posture, lifting mechanics, &/or work ergonomics that facilitate your problem.  This combination of skilled professionals & patient compliance increases your chances of a full recovery & prevention of future injuries.
Commonly treated conditions with Physical Therapy:
Arthritis
Auto accident injuries
Chronic and Acute Musckuloskeletal Pain
Foot and Ankle pain /tendonitis
Golf Elbow/ Tennis Elbow
Herniated Disc
Hip Replacements
Knee Replacements
Sciatica/ Pinched Nerve
Shoulder Pain
Shoulder Tear
Sports Injuries
Osteoporosis
Other join pains and injuries
Work Related injuries and much more.
Book an Appointment
Call our office to schedule your Physical Therapy appointment today at (410) 720-5555.
CONTACT US »
---
Physical Therapy Columbia, Howard County MD | (410) 720-5555