Neuropathy at Dabbs Rehab Center of Maryland
We now offer a revolutionary treatment for Neuropathy!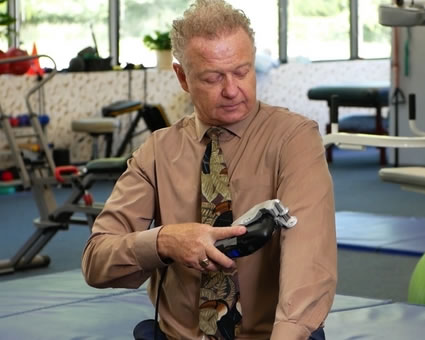 With our team of Health Professionals and years of research, our treatments are able to achieve truly amazing results, because we combine different types of therapies to achieve one goal – to AWAKEN YOUR NERVES!
After diagnostic testing that include Nerve Conduction Velocity (NCV), we use FDA cleared low-level laser to increase oxygen and blood flow to the damaged nerves. Our unique treatment protocol includes:
Laser Therapy
We use therapeutic lasers to deliver a wavelength of monochromatic light in the 600 to 950 nanometer (nm) range that penetrates up to 10 cm into the targeted tissue. These light particles known as photons stimulate the mitochondria in the target cells, causing an increased production rate of adenosine triphosphate (ATP) and oxygen, which provides cells energy in order to heal tissue at accelerated rates1.
Medical Injections
Lidocaine is a local anesthetic that is a nonselective sodium channel blocker. Sodium channel blockade is thought to be responsible for analgesia. Studies on animals and humans demonstrate that injured nerves develop abnormal, spontaneously active sodium channels at sites of nerve injury, along damaged nerves, and at the dorsal root ganglia of damaged nerves. Lidocaine can suppress this ectopic, spontaneous firing of aberrant sodium channels at concentrations that do not affect normal nerve conduction2.
Durable Medical Equipment
DME is used to help support affected areas to make activity more functionable3.
Non-surgical Spinal Decompression Therapy (NSSD)
Painless therapy to decompress nerves4 .
Physical Therapy and/or Chiropractic
To help free up nerves to function, create better balance and function.
Nutrition and Naturopathic approach
SpectraCell's micronutrient testing is a clinically effective diagnostic tool for the prevention and management of chronic disease conditions. There is overwhelming evidence confirming that nutrient deficiencies have been shown to suppress immune function contributing to chronic disease process including cardiovascular disease, diabetes, arthritis and Alzheimer's. See more on Specracell.com.
Learn More Today
We offer the most advanced multidisciplinary holistic and medical treatment for neuropathy patients. We cannot guarantee results, but we have researched with this combined care over 6-12 weeks we have seen 80%-100% recovery in 90% of the patients.
If you (or your family) suffer from this condition, we invite you for a FREE SCREENING to see if you are a candidate for our unique approach to improve the quality of your life!
CONTACT US »
---
References
1. Yamany A.A. , Sayed, H.  Effect of low level laser therapy on neurovascular function of diabetic peripheral neuropathy. Basic Science Department, Faculty of Physical Therapy, Cairo University, Giza, Egypt Neuromuscular Disorders Department and Surgery, Faculty of Physical Therapy. Journal of Advanced Research Volume 3, Issue 1, January 2012, Pages 21-28
2. Devor M, Wall PD, Catalan N. Systemic lidocaine silences ectopic neuroma and DRG discharge without blocking nerve conduction. Pain. 1992; 48(2):261-8.
3. Medicare.gov
4. Eyerman, Edward MD. Simple pelvic traction gives inconsistent relief to herniated lumbar disc sufferers. Journal of Neuroimaging. Paper presented to the American Society of Neuroimaging, Orlando, Florida 2-26-98.
"Results showed that 86% of the 219 patients who completed the therapy reported immediate resolution of symptoms, while 84% remained pain-free 90 days post-treatment. Physical examination findings showed improvement in 92% of the 219 patients, and remained intact in 89% of these patients 90 days after treatment."
---
Neuropathy Columbia, Howard County MD | (410) 720-5555