Dabbs Rehab Center of Maryland in Columbia
Columbia Chiropractors | Physical Therapists | Functional Medicine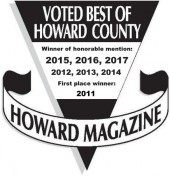 Dabbs Rehab Center of Maryland provides expert functional medicine, chiropractor, physical therapy and medical services to individuals and families throughout Howard County, including Columbia, MD and the surrounding region.
Your Overall Health is Our Priority
We are a group of chiropractic doctors, physical therapists and medical staff, who are dedicated to providing you with tailored chiropractic, physical therapy, spinal decompression, and cold laser therapy and other treatments that lessen or eliminate your physical pain and rehabilitate your joints and muscles, leading to a marked improvement in your overall physical wellbeing.
Compassionate Care for Your Pain
We listen to your concerns and offer you our recommendations on the natural and safe treatment that will effectively improve your condition. Now also helping people with diabetic peripheral neuropathy and more!
Why Should You See Us?
We combine medical approach with the best of "alternative medicine". Now offering:
FDA Approved Cold Laser Therapy
Traction
Trigger Point Therapy
Neuro-Muscular Education
Medical Injections
Nutritional Counseling
…and much more!
Our Holistic Approach to Pain Relief
There are many physical symptoms for which individuals may seek our services. We address a variety of conditions that affect the body and its nervous system, including back pain, neck pain, ear infections, headaches, neck pain, bulging and herniated discs, carpal tunnel syndrome, auto accident injuries, whiplash, pinched nerves, sciatica, scoliosis, knee pain, foot pain, diabetic peripheral neuropathy, TMJ and much more!
Are you in pain? With our comprehensive and holistic approach WE HAVE A SOLUTION to help you regain your health.
Chiropractic Adjustments
Our doctors provide experienced and individually tailored chiropractic adjustments to help release spinal joints and lessen disruption to your nervous system.
Our adjustments are carried out with care and are highly effective. Our clients return to us on a regular basis due to the pleasant experience and successful treatment they receive during their adjustments sessions.
Affordable Chiropractic Care
Our mission is to help you be your healthiest self, and we aim to do that in a way that is affordable. We are happy to work with you to create a payment plan that works for you. We also accept most insurance plans. Please contact our Dabbs Rehab Center of Maryland chiropractic practice to inquire about your specific plan.
Contact Dabbs Rehab Center of Maryland
We are ready to help you achieve greater total body health. For additional information about our comprehensive Columbia chiropractor services, call us today at (410) 720-5555.
READY to take a step forward to better health?
Call us today and schedule your appointment to take advantage of our new patient offer:
Initial Office Visit Valued at $230!
Your Initial Office Visit includes:
Consultation | X-rays (if necessary) | Spinal Examination
and Report of Findings
Federal Rules Apply.
CALL TODAY for an appointment.
Dabbs Rehab Center of Maryland
8600 Snowden River Parkway, Suite 101, Columbia, MD 21045
(410) 720-5555
---
NOT READY? NO PROBLEM.
We understand you may have a question or two and need more information before you schedule an appointment.
Please click LIVE CHAT and chat with us. If you would like Dr. Vaughan Dabbs to answer your questions and give you more information, just let us know that you want the chat to be forwarded directly to Dr. Dabbs and we will, because we want you to know we are here to help the best we can.
Chiropractor Columbia | Dabbs Rehab Center of Maryland
Proudly serving Columbia, Catonsville, Laurel, Jessup, Savage, Silver Spring, Clarksville, Ellicott City, Sykesville, and Marriottsville.